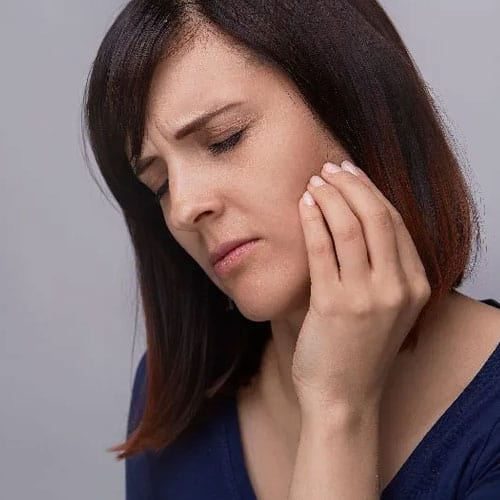 Do You Suffer From TMJ/Airway Dysfunction? Are You Looking for Relief From Pain, Discomfort and Other Symptoms? R3 Physio Can Help.
TMJ/Airway Dysfunction can cause a number of life-altering symptoms. It is characterized by pain in the jaw, neck and head region which can be quite debilitating and affect your quality of life.
At R3 Physio we have extensive experience treating patients with TMJ/Airway Dysfunction. Our team is dedicated to providing personalized, evidence-based treatments that target the underlying causes of your pain and discomfort. We are happy to work alongside your dental/orthodontic providers to best help you.
It can be difficult to find practitioners that truly understand the connection of the Temporomandibular Joint (TMJ/Jaw), airway, and the connection to the rest of the body and its many systems. This is an area we specialize in.
Our team is passionate about helping you find relief and restoring your quality of life.
Contact us today to learn more about how we can help you with TMJ/Airway Dysfunction. Our team is ready to provide the care and support needed for you to get back to feeling your best. Take the first step towards a healthier, pain-free life.
Common scenarios we see are:
What You Can Do To Help Yourself?
Posture awareness and correction: Make sure you're sitting upright with your chin parallel to the floor. This will help reduce tension in your muscles and help open up your airway passages.
Breathing exercises: Deep breathing can help relax the muscles of the jaw, neck, and shoulders, as well as open up blocked airways. Try doing some simple breathing exercises such as diaphragmatic breathing, box breathing, and the 4-7-8 technique.
Jaw stretches: Doing stretching exercises for your jaw can help relax tense muscles and improve blood flow to the area. Try opening your mouth wide and holding it for 10 seconds at a time, or gently massaging the areas around your jaw.
Relaxation techniques: Stress and tension can worsen TMJ/Airway Dysfunction symptoms, so it's important to find ways to relax. Try yoga, mindfulness meditation, or progressive muscle relaxation.
Limit activities that increase muscle tension in the area of the jaw, neck, and head: Avoid activities that cause you to clench your jaw, such as chewing gum or grinding your teeth. You may also want to limit activities that require extended periods of time in one position, like watching TV or using a computer.
Visit a physical therapist: A physical therapist can help you with postural alignment, breathing exercises, jaw stretches, and relaxation techniques. A physical therapist can also give you more specific exercises and stretches to help alleviate your symptoms.
At R3 Physio, our experienced therapists are highly trained in the treatment of TMJ/Airway Dysfunction, so you can trust that you're receiving top-notch care! If you suffer from TMJ/Airway Dysfunction and live in Ft. Worth, Texas, contact us today.
Take control of your health and get back to feeling your best – book an appointment with R3 Physio today!
What Makes R3 Physio Stand Out?
At R3 Physio, we believe in a holistic approach to treating TMJ/Airway Dysfunction. We take the time to understand each individual's unique needs and develop a personalized treatment plan that incorporates postural alignment, breathing exercises, jaw stretching, relaxation techniques, and more!
We can also help you maintain your treatment plan with follow-up visits so that long-term results can be achieved. Our experienced therapists are here to answer any questions you may have and work with you every step of the way to ensure optimal recovery.
Schedule an appointment today to get started on your journey to feeling your best!
What Other People Just Like You Are Saying About R3 Physio In Keller/Alliance...
I highly recommend Jason at R3 Physio. I am so much healthier now than I was even a few years ago! I am able to do things physically that I thought might be gone forever. Jason will educate you on ways you can be healthier with compassion and encouragement. The way the treatments work is hard to explain but it doesn't hurt, and you feel much better. You will never feel judged at this place. It is understandable why some of us with chronic health struggles would be tempted to give up. However, Never give up on yourself, just go see Jason for help.
R3 Physio is incredible! Jason is one of the most attentive, and knowledgeable physical therapists I've come across. He actually listened to me and my pain and made sure I was comfortable during the session. (I suffer from horrid chronic pain). After leaving his office, I got in my car with relief which hadn't been done in almost a year. There's no reason to look around for another PT, Jason is amazing and I can't recommend R3 Physio enough.