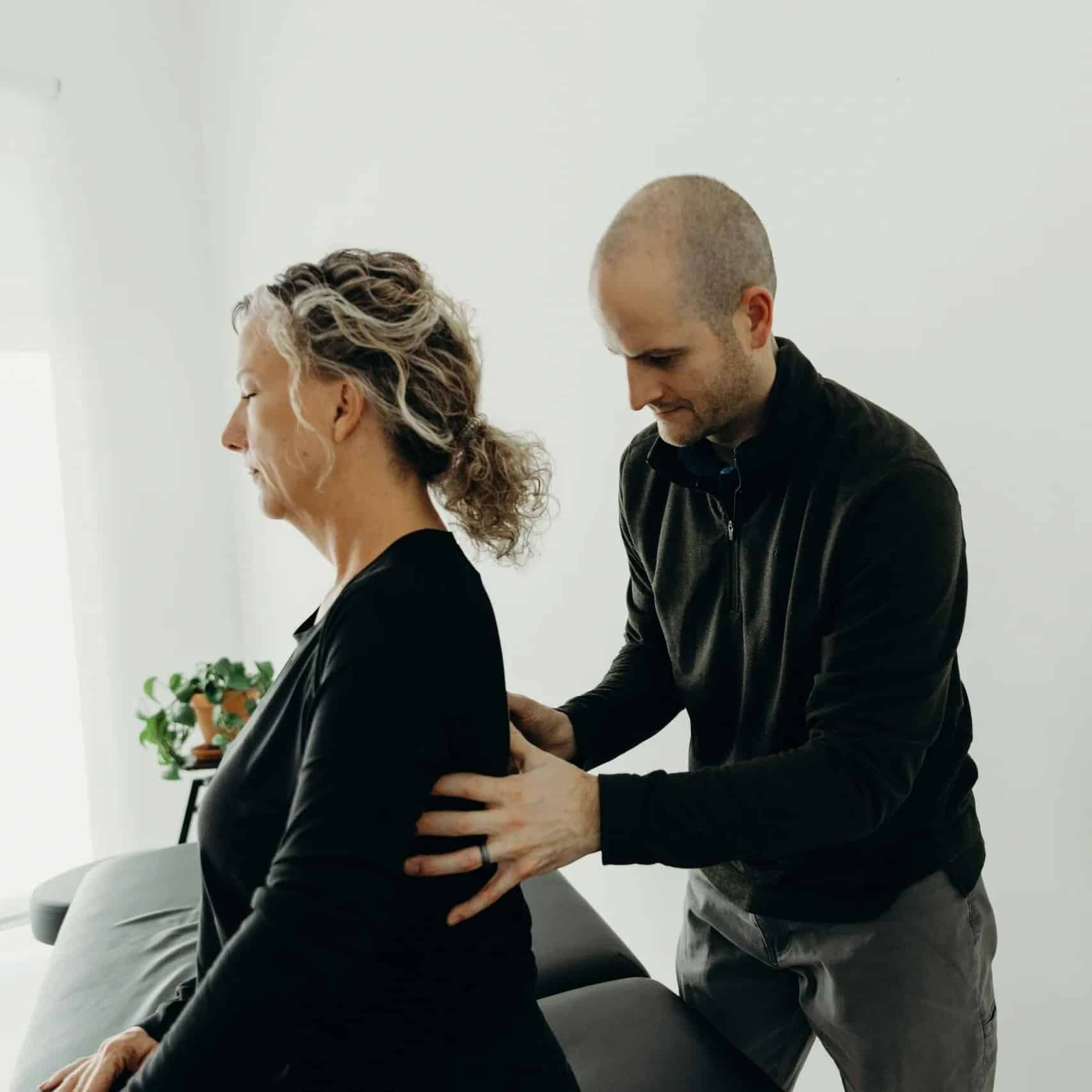 Jason Racca, PT, DPT, CFMT, OCS
A Message From Jason Racca, PT, DPT, CFMT, OCS, Owner and Founder of R3 Physio
It's natural to believe that back discomfort is insignificant and will go away on its own. It's also typical to blame it on "awkward sleeping," a "spasm," or something "everyone" suffers from at some point…
There is no evident cause for it, but it does not appear to be changing!
If this is happening to you, you are not alone; we hear stories like this all the time. In fact, the most common ailment we treat in our clinic is lower back pain and sciatica!
And when it comes to living with back pain, everyone we visit is curious…
How Come This Is Happening To Me? Or, "Why, After Suffering From Back Pain For 3-6 Months, Am I Still Suffering From It? (Occasionally More!)
Most individuals believe that back pain will just go away on its own when they experience it.
They believe that one day they'll awaken and, "magically," their back pain will go. However, six months later, your back discomfort is still present and frequently worse than it was at the beginning.
A different situation that frequently occurs in our clinic is when patients visit the doctor, who instructs them to relax and "try some pills" and "see how it goes."
However, this is seldom the greatest suggestion, and frequently after 4 weeks they return to the doctor since nothing has changed. Even worse, patients frequently receive yet another prescription for even stronger medications and are counseled to get MORE rest. This is absurd and explains why there are so many Americans who experience persistent lower back discomfort.
Has Something Similar Happened to You?
Another reason why back discomfort persists longer than it should is because you've been taught so many different things by so many different individuals, it's simple to become perplexed. There are many individuals who are willing to provide advice, but much of it is rarely reliable.
You may believe that something you did, such as lifting a heavy object or sleeping in an awkward position, caused your back pain, but in reality, years of poor posture and poor movement could be to blame. It may also be unresolved old injuries. The lifting or the awkward sleeping position was simply the RESULTS of this.
Back pain may be incredibly frustrating if you don't know what you're doing, and as a result, many people just accept it as "part of life"—as if it's normal and "just the way it is." 
Do You Also Feel This Way?
If You Already Have Back Pain, Here Are 7 More Reasons Why It Might Be Sticking Around Longer Than It Should:
You expected it to go gone by itself, but it didn't
You saw a doctor, who prescribed rest and medications, but the latter did little to relieve your back pain, and as soon as the drugs wore off, your chronic back pain returned.
You just accepted that everyone experiences back pain as they age since a family member or acquaintance informed you that everyone does.
In the past, you've tried a physical therapist or other healthcare professionals, but nothing they said or did appeared to help.
You attempted to perform the exercises on YouTube, but they either had no effect or caused your back ache 10 times worse.
Your back pain was so awful that you felt it would be a good idea to relax, but all it did was make it feel more stiffer and tighter.
You made the decision to have a couple "massages" in the hopes that they would help the pain, but all they did was make you feel good and relaxed and did nothing to alleviate it permanently.
If any of these scenarios apply to you, we encourage you to schedule a conversation with one of our low back specialists to discuss your situation and learn what may be done to assist. The fact that you have previously tried any or all of these things is really a GOOD THING since it puts you one step closer to discovering what does work when you are aware of what doesn't!
If you want to speak with one of our representatives to schedule a call, click the link below. There is no cost for the call, and there is no pressure to schedule any appointments with us when it is complete. Making the best decision possible on what to do next is our objective.
What Can I Do To Quickly Get Rid Of My Back Pain? ...
Well, here's 4 things you can do:
1. First, you must decide whether to seek assistance: Many individuals put off treating their back pain for so long, believing it will "simply go away with time," but six months later they are still suffering from it, and either nothing has changed or it has gotten worse.
2. Next, perform the RIGHT exercises: One of the best ways to relieve back pain is to perform a series of progressive exercises prescribed to you by a physiotherapist. These exercises will help you feel less pain and be able to move more freely quickly. They will also ensure that the problems don't return any time soon (or aggravate your back even more like some exercises do).
3. Refrain from sitting and sleeping for extended periods of time: Have you ever attempted to get up from the couch after a lengthy nap but struggled because your back felt so stiff and painful? This is due to the fact that spending a lot of time resting or sitting still is one of the worst things you can do for your back. Your back becomes stiff and tight from excessive rest and uncomfortable seating positions. To get you moving and healthy as soon as possible, it would definitely assist if you were given the proper strengthening exercises for better posture in addition to hands-on therapy.
4. Attend "hands-on," practical physical therapy: Physical therapy has been shown to be effective in treating low back pain. In fact, it's one of the most frequent ailments we encounter at R3 Physio. Physical therapy can help you swiftly return to living the life you deserve if your back pain is interfering with your ability to do your work, stay active, maintain your independence, or enjoy meaningful time with family and friends.
If you'd like to learn more about how the physical therapists at R3 Physio can make it easier for you to live pain-free, we welcome you to start with a totally free, risk-free visit at our clinic:
Note: We provide this Free Total Body Diagnostic session to those who are extremely anxious or skeptical about physical therapy and are unclear of its advantages or if it is appropriate for them. If that describes you, we ask that you begin with a Free Total Body Diagnostic session so that we can collaborate with you to determine what is wrong and what can be done without putting your finances at risk.
So Here's the Next Question:
"How Can Seeing A Physical Therapist At R3 Physio Help You Get Rid Of Your Back Pain - Within The Next Few Days?"
Here are a few examples of what our Physical Therapy Team can accomplish for you:
Essentially, we can help you in resuming your life free of the scourge of persistent back pain.
If you want to know how much it costs and what availability we have at our physical therapy office in Ft. Worth, Texas, simply click the button below and fill out the short form:
What Other People Just Like You Are Saying About R3 Physio In Keller/Alliance...
I highly recommend Jason at R3 Physio. I am so much healthier now than I was even a few years ago! I am able to do things physically that I thought might be gone forever. Jason will educate you on ways you can be healthier with compassion and encouragement. The way the treatments work is hard to explain but it doesn't hurt, and you feel much better. You will never feel judged at this place. It is understandable why some of us with chronic health struggles would be tempted to give up. However, Never give up on yourself, just go see Jason for help.
R3 Physio is incredible! Jason is one of the most attentive, and knowledgeable physical therapists I've come across. He actually listened to me and my pain and made sure I was comfortable during the session. (I suffer from horrid chronic pain). After leaving his office, I got in my car with relief which hadn't been done in almost a year. There's no reason to look around for another PT, Jason is amazing and I can't recommend R3 Physio enough.